Newspaper Circulation – Every Day is a Bad Day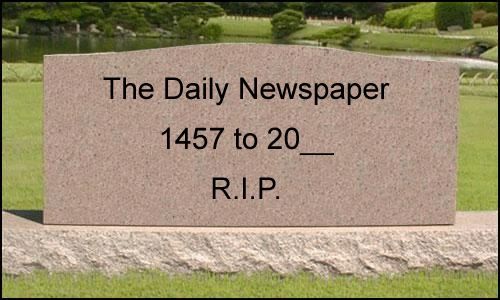 I recently started
another blog
to chronicle the demise of the daily newspaper. But it soon became apparent there need not be any specific blogging on that topic since it's becoming such common knowledge and with so many outlets covering the most important of news regarding the demise of the newspaper.
I subscribed to a Google newsfeed based on keywords like "circulation decline" and other related nuggets. I soon started seeing an avalanche of bad news. Newspapers from around the world are reporting downward spiraling circulations. I just couldn't keep up with all that bad news and report it with any amount of clarity.
So, I quit the blog. Say bye bye to ByeByeInk.com. 🙂
But I've picked up another project that relates directly to the demise of the traditional newspaper (and pays me better, to boot!) Wait until you see this. Can't wait to unveil this baby. You'll hopefully be reading about it left and right once I release news of it. It may or may not rock the news publishing world. Who knows? But it's going to be fun trying.