It seems someone who takes treasonous acts, no matter how long ago they occurred, very serious. A theatre owner in Kentucky has refused to show the movie Monster-in-Law because it stars Jane Fonda. In case you didn't know, she has been unapologetic for giving aid and comfort to the enemy during the Vietnam War.
Here's Hanoi Jane laughing it up with the very people shooting down American pilots at the time. Imagine Julia Roberts having a photo op with Al Queda fighters in Iraq, amidst a pile of explosives ready to be used as IEDs. Makes you sick, hey?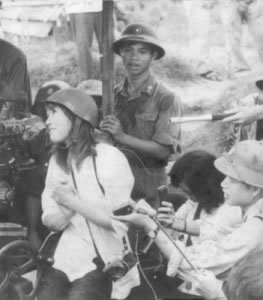 Well, Ike Boutwell, owner of the Elizabethtown Movie Palace in Elizabethtown, KY, won't have anything to do with supporting the success of Jane Fonda.
Until she gives a heartfelt apology for what she did to the American serviceman at the time, I won't either. I'm going one step further. I'm sending money to Ike to help offset his lost revenue and to make a statement that I feel he's doing the right thing.
If you want to send him money, please do so. Here's the address of the theatre:
Ike Boutwell
1231 Woodland Drive
Elizabethtown KY 42701
If you don't stand for what's right, the bad guys win.
[Tip to
Right Nation
via
Michelle Malkin
]