Post-it® Note Marketing Product Launched
I've finally gotten around to commercializing an idea I wrote about a while back having to do with Post-it® Notes.
I've done some experimenting and have found amazing results advertising a special to my customers via a custom printed 3″ x 3″ post-it note.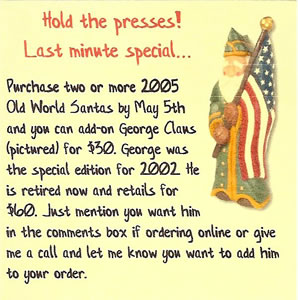 I recently sent out our new catalog for Great American Collectibles. Here's the post-it note (left) that I stuck in random locations inside the catalog. I used my i9900 Canon ink jet printer to print it. The seemingly inferior quality is from the scanning process. The actual printed sticky looks quite nice.
In this experiment, I offered this special discount on George Claus via a post-it note in half my mailing and the other half received the same special, but it was only mentioned in the text of the catalog with NO post-it note included.
Not surprisingly, I had FIVE TIMES the response to the special offered via the post-it note compared to the one offered only through the text in the catalog even though the special was identical.
If you send out mailings of ANY kind to your customers, you should NEVER pass up the opportunity to highlight something you want to make absolutely sure your customers see. Even if your customer quickly throws your mailing away, they WILL notice and WILL read your post-it note. It's your one chance to yell at the top of your lungs, "DON'T THROW ME AWAY… LOOK WHAT I'VE GOT FOR YOU."
And it works.
Up until my little invention, you'd have to order 25,000 Post-it notes if you wanted something custom printed in full color (or black and white for that matter.) But using my Ready-to-Print Sticky Sheets®, you can design and print (in full color) as little as just one sticky. This opens up an entirely new way to uniquely reach your audience. You can even personalize each sticky, for each customer.
As a business opportunity, I'm targeting churches in a big way to sell this product to. Stickys are a perfect way for churches to highlight something important in the Sunday bulletin. The reader is more apt to take the sticky and put it in their pocket or purse because we're conditioned to do that with stickys when it has info on it that we're in need of.
These are also great for door-to-door marketing. It's so much easier to stick one of these things on someone's door (not to mention the ease of carrying them while you're hoofing it door-to-door) than it is to put a flyer on a door handle or trying to afix your message somehow so it doesn't blow away. Also, it gets gobs more attention because they think someone they know has left them a note on their door.
If you want to sell these to local churches or have another idea of who could use these, email me (myself AT dandsherman DOT com) and we can work out a dealer discount if you're serious about marketing them in your local area.