I've created another fundable action over at fundable.org. Another cool t-shirt. This time for us bloggers. American bloggers, specifically. Remember, if we don't get enough people to contribute within the preset time frame then everyone's payments are automatically refunded and the fundable action is not carried out and cancelled.
You can see my other fundable action going on here.
Anyway, here's the new t-shirt.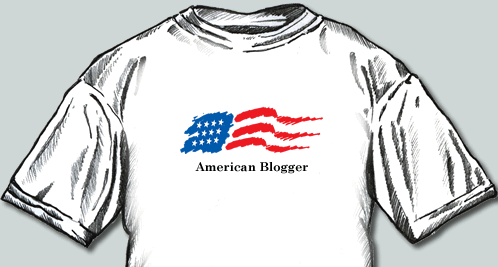 If we get 50 people to join this fundable group that I just created, by the end of July, I will have this t-shirt made for all of us. It's ONLY $12. That includes first class shipping.
(If you require XXL or larger, I'll need to get another $3 from you separate from the fundable group if it funds. So, please note this!)
The t-shirt will be on a high quality shirt (I hate crappy t-shirts, so you can be sure I will do the right thing here) and the image will be professionally screen printed onto the shirt.
This is a VERY cool t-shirt to sport if you are an American Blogger. So join our fundable group! It's only $12. That's cheap for a t-shirt now a days.
Click here to join this fundable group. You'll have to create an account first. Then you can join the group.