American Entrepreneur – Show the World Who You Are!
I've discovered a pretty cool service wherein you can create a "fundable group" and then invite people to join the group. If the group gets enough people to join, it is automatically "funded" at the end of the preset period of time. If it doesn't get enough people to join within the preset time frame (set by the person that created the fundable group) then everyone's payments are automatically refunded and the fundable action, whatever it was, is not carried out and cancelled.
This is really great for fundraisers, but it can be used for so many other things as well.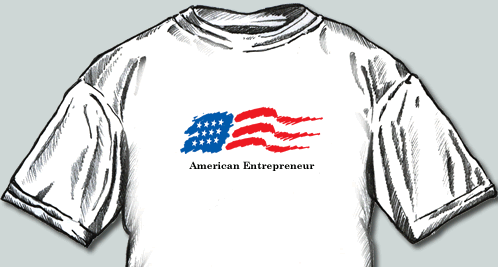 I just created one. I've designed a very cool t-shirt. It's called the American Entrepreneur. If we get 50 people to join this fundable group that I just created, by the end of July, then I will have this t-shirt made for all of us. It's ONLY $12. That includes first class shipping. (If you require XXL or larger, I'll need to get another $3 from you separate from the fundable group if it funds. So, please note this!)
The t-shirt will be on a high quality shirt (I hate crappy t-shirts, so you can be sure I will do the right thing here) and the image will be professionally screen printed onto the shirt.
It will also be a limited edition t-shirt. Meaning, only 50 will be made and I won't make the same design again. (If more than 50 people sign up for this group, that's fine. But once it closes in July, however many people have signed on… that's how many will be made and no more.)
This is a VERY cool t-shirt to sport if you are an American Entrepreneur. So join our fundable group! Now! It's only $12. That's cheap for a t-shirt now a days.
You'll also be supporting a good cause. My income. 🙂
Click here to join this fundable group. You'll have to create an account first. Then you can join the group.