Ad Designed to Shame You into Paying Your Cigarette Taxes
I was reading one of our local papers today (for real estate ads… only reason I pick up a newspaper now-a-days) and came across what I thought was an absolutely amazing advertisement. Evidently, the Oregon Department of Revenue is trying to persuade smokers to not evade paying taxes on their smokes when purchasing through the internet.
Here is the ad: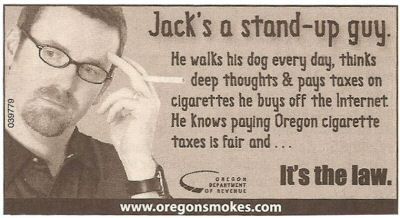 Instead of using our state tax revenue on ads telling people they're pretty stupid for smoking, they would rather throw money at ads that try to shame people into paying taxes voluntarily on something that smokers consider to be outrageously expensive anyway.
I don't think I've ever seen an ad as useless as this one. Talk about a colossal waste of money. Yowza!