The Sky is Falling, The Sky is Falling
Please, please, please, if I hear one more global warming comment regarding hurricanes Rita and Katrina, I swear, my head will burst and spin around and spew bile and say mean things about your mother. I'm so sick and tired of this drivel. Yes, the earth is getting warmer. So, the *uck what? It was REALLY warm millions of years ago, without the help of us evil humans. And it'll probably get REALLY cold again, too. When are the liberals going to realize that we are A PART OF THE ECOSYSTEM!!! Yes, we have to be smart within reason, and not "piss in our yard" but let's not go over the deep end (Kyoto) about it all.
Regarding the hurricanes, I've got one image for you, courtesy of the USA Today.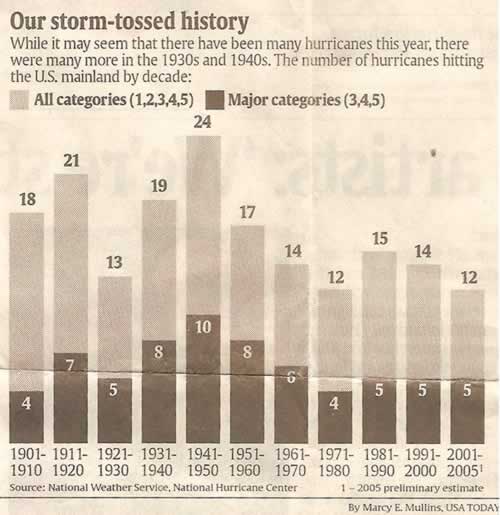 Now, please, fhut the suck up already, Ms. Streisand.
Geesh!