I've been receiving emails from readers of my blog asking when I'm going to post again. This blog is near and dear to my heart, but it's so easy to let it slip because of how busy one can get. I like to think that if an entrepreneur has time to post to their blog, they aren't working hard enough or spending enough time on their ideas. Haha!
We've also just had a new baby. Here's our new daughter, Zoe Belle Sherman. (This drawing was done from a picture taken when she was about 10 days old. Yep, she's that hairy!)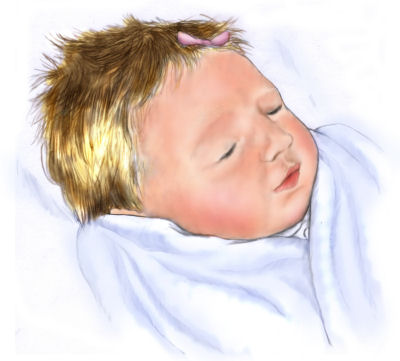 She was born on May 16th and is healthy. Now we have two girls and that's it. No more for us. 🙂
Meanwhile, in case you're interested, here is an update on all my businesses:
Sticky123.com – Going good. I've neglected it a bit only because the logistics are not set up to do MAJOR sales with this business yet. However, I'm changing that and so I'll be able to ramp this business up a bit. Current annual revenue from this business is about $3000.
Gr8American.com – This business is still solid. Just finished this year's line of Old World Santas. I think they'll be great sellers this year. (New guys aren't posted on site yet.) Current annual revenue from this business is about $175,000.
EbookPrintout.com – Gang busters. I'm working on an add on to this service, for author's of ebooks that will make it even more appealing for them to use our services. Amazingly, the site isn't even live yet and we already are making about $25,000 a year off this business.
AboveBlack.com – My book is still selling. It's been out now for 9 years, so sales have slowed of course. But we just printed our 6th print run and we've now sold over 10,000 copies. Annual revenue is about $6,000. But this revenue is essentially all plowed back into advertising. I wrote the book not as a money maker but as a tool to educate the public as to what is going on in certain circles of the US government.
PurpleStreet.com – (The site is a template right now… we're doing development on it so what is there now is nothing like the actual final site.) This is a new site I'll be launching soon. It will be a service for micro businesses that have one or two products to sell and don't want to spend lots of money on an online store, getting approved for a merchant account…etc…etc. With this new service, they can upload their product to this ecommerce enabled website, in their own category, and then just link to the cart from whatever one page sales copy they have on the internet. The cart is REALLY professional looking with the ability to track orders, process payments, do sales tracking, ROI…etc. This kind of service is way over due on the net. I don't know of one place on the net like it for real goods. It's all inclusive. All you have to have is an inventory of products and a picture of the product. Now that's simple ecommerce. 🙂 Estimated annual revenue by December 2007: $250,000.
MegaSticky.com – (Site not functional yet.) I will be selling sticky note pads that are just like 3M's Post-It Notes, but BIGGER. Perfect product for schools and businesses alike. Imagine having a 1′ x 1′ (that's "1 foot by 1 foot" folks) sticky pad in your sales arsenal or in your day care or in your classroom. Estimated annual revenue by December 2007: $750,000 to $1.5 Million
OrderDept.com – (Site not functional yet.) I'm building a database system for small businesses. Most small businesses get orders and fulfill them. They don't think much beyond that. Most can't even begin to imagine actually pulling data from their database and doing follow up marketing based on certain criteria…etc. Of course, everyone has differing levels of competency with database manipulation…etc, but for the most part, small businesses do not even come close to optimizing their current customer base the way they could if they had an easy way to do it.
With the system I'm building, a small business can simply forward their cart's order notification emails to us and we'll store their customer's order data, just off that notification email. Then, we'll have an online interface they can log in to at any time and it will provide an EXTREMELY easy way for them to extract lists from their customer base, from selectable criteria. The cool part is, we'll be compiling this data into one location. A lot of small businesses may have several different systems going at one time. They'll use one cart for one thing and another system or cart for another and to get all that data working together is a nightmare. We put it in one location, regardless of what cart system they are using to collect the info. They can even move their entire operation to another cart system and not worry one bit about all their historical customer data. It'll all be safely tucked away into our system. Once they start up at the new cart, they just continue forwarding order notifications and everything continues like they hadn't moved at all.
Also, it'll help small businesses keep their database "clean". Meaning… let's say you have a customer order a Widget X and then right after that, they discover Widget Y and they order that. With all the data going into our system, we'll recognize that customer as already having ordered another product and just add this new purchase to their existing customer record. So, when you go to query the database, you're not going to duplicate your mailing by sending something to this same customer twice and you'll know that they ordered both of these products without having to compare your product purchases against each other for duplicate customer records. Of course, if you have a cart that requires registration and for the customer to have an account, that won't happen. But MOST small businesses don't have carts like that. Estimated annual revenue from this business as of Dec 2007: $25,000 to $50,000.
Mystery Business – I have one business that I'm reluctant to discuss in detail. It's too sensitive to competition and right now is our biggest money maker. So it would be silly of me to expound. But I at least wanted to let you know that it exists and definitely makes money. Projected 2006 revenues (not profit, revenue): $500,000.
ForSaleByColor.com – (Template right now.) This is a new blog I'm having designed at the moment. I've alluded to this business in the past. Yes, it's a blog. So why create another one when I don't have time to add to this one… right? Well, it's because ForSaleByColor.com will actually make money (butt loads of it.) Plus, my assistant, Francy, will be doing much of the actual blogging, I think. At least once it gets rolling. So, keep an eye out on that one. It might get some high profile attention when it launches since it will be a faily new take on the blogging concept. Estimated annual revenue as of Dec 2007: $50,000 – $150,000 (Lot of "what ifs" on this one.)
CarSticky.com – In early stages of conceptualization. Not much to report at the moment.
DanSherman.com – This blog actually used to make money with AdSense, but about a year ago or so, they started serving crappy public service ads ALL THE TIME on the site. So, I just removed them. So, DanSherman.com used to make about $1500 a year in just AdSense revenue, but it doesn't any more. Perhaps I'll rethink my monetization plan for this at some point.
Various Affiliate Links – Over the years, I've signed up with affiliate programs and displayed them on various sites of mine. (Some of them I haven't even visited or worked on in over 4 years.) I just get checks in the mail every so often for these programs and for the most part, I have absolutely no idea how I made the money. Annual revenue: $1000
So that is the status of the Sherman Empire such as it is. Every day is another challenge. But challenges that I cherish and wouldn't change for the world.
Be different and never give up.