Really Cheap Inkjet Printing
I've moaned and groaned about inkjet ink costs before. But I've finally found a printing solution that doesn't require me to spend my daughter's college fund on ink.
I have a specific reason for trying to find a cheaper alternative for in home printing. Not only to print my collectible company's catalog, but also to offer printing services for my Sticky123 business. I've just completed my printing set up. So, I'll soon be updating the Sticky123 site to offer custom full color printing onto individual 3″ x 3″ Post-It notes, for as little as 9 cents per sticky, complete.
There's another reason (and a bigger reason) for my wanting to find a cheaper printing method, but I can't quite share that idea with you yet. I've alluded to it before, but I will say that this idea is going to revolutionize the delivery of online information to the offline audience. 🙂
Anyway, I want to show you what I did to bring down my printing costs. I purchased a Canon i9900, large format inkjet printer. It can print borderless images on 13″ x 19″ paper. It's perfect for my 11″ x 17″ catalog that I print for Great American Collectibles. Even thought it uses 8 cartridges, each is still about $12 a cartridge which can really add up. If you calculate the cost per gallon of ink, it's about $3000 per gallon. That's just absolutely incredible if you think about it. That's not half as bad as some inkjet printers. Some can be as high as $8000 a gallon. Yowza!!!! It's so bad, Congress should be doing hearings and locking people up for this travesty.
But I digress.
I found a bulk ink system that is built for some Epson and Canon printers, from Media Street. They sell a system called "Niagara III Continuous Ink Flow System." Using this system, you never have to remove the ink cartridges and the ink costs are as low as $200 per gallon. You do the comparison. OEM cartridges are $3000 per gallon. Niagara III is $200 a gallon. Talk about a savings!!!!
Although I'm glad I bought this bulk ink system, I do have to say that it was a harrowing experience to install it. I got ink all over my hands and I said cuss words that I haven't said since I was in the military. Very, very, frustrating. However, with that said, after all the kinks have been worked out, I've been using the printer now for a few days. (Hundreds of prints later!) I'm extremely happy with it. The colors are just as vibrant as they were with the OEM inks and not one ink delivery problem with the tubes… etc.
Here are some pictures of the system after I've installed it. Notice the 8 tubes going into the printer from where the bulk ink bottles are located at the right of the printer as you look at in the picture (below.) They thread underneath the lid (lid is slightly ajar to accommodate the tubes.)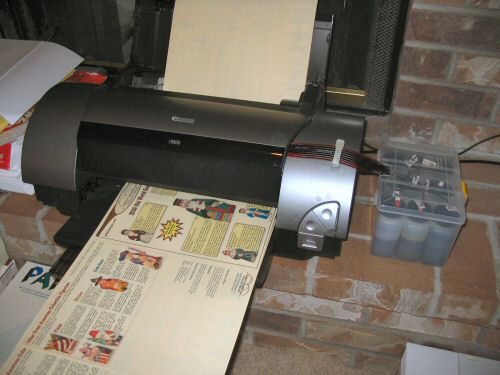 Below is a close-up of the bulk ink bottle tray where the ink bottles reside.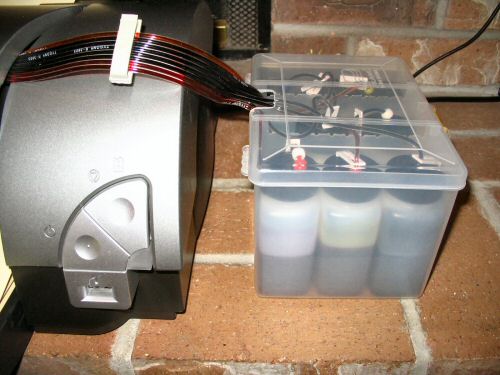 Below is the ink bottle container with the lid up so you can see inside. These are essentially 4 ounce bottles. But you can buy each ink color in 32 ounce bottles.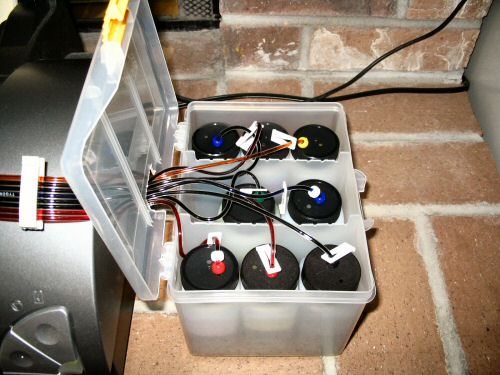 Before using this system, the catalog you see being printed in the first picture used to cost me about .60 cents per catalog for a 2 sided, full color print on a 11" x 17" sheet of paper. Now my ink costs are about 4 cents, give or take a fraction of a cent.
Now think about what you can do in the print world with full color printing at that price. 🙂